More than a year ago, the actor, dancer and singer David Tobias Schneider started writing a new music program. "Tangos between heaven and hell" is what he calls his chansons and tango songs, which he is now introducing to the audience. In 2014 he had already performed his first music revue "El Tanguero" across Germany, which was very successful with viewers and the press.
The new show "Tangos between Heaven and Hell"
David Tobias Schneider's new show celebrates its premiere on October 17, 2020 - in a way, as a continuation of the revue "El Tanguero". His figure, the good insurance officer Johann Müller, who laboriously learns the first dance steps, has meanwhile become a fiery Don Juan and heartbreaker.
The focus of the new project is on music. The program "Tangos between Heaven and Hell" offers a wide range of classical Tango songs, Chansons and love songs as well as own compositions. The basis is Tango Argentino, but sometimes swing, milonga, vals, candombe, jazz or pop, as well as "singer-songwriter" style are used.
David Tobias Schneider developed, composed and arranged the songs together with accordionist Margit Sonnauer and wrote his own lyrics for them. David sings and is accompanied by Margit Sonnauer and her band "Tango Sur" (Nenad Uskoković on cello and Lori Lorenzen on guitar). Sometimes cheeky, sometimes critical, sometimes melancholy - passion, longing and humor are guaranteed with this show!
The CD for the Tango Songs Show
An album of the new Tango songs has already been recorded in the studio and is availablefor download. All the musicians involved are looking forward to a time when live concerts can take place again and would like to go on tour with "Tangos Between Heaven & Hell" as soon as possible!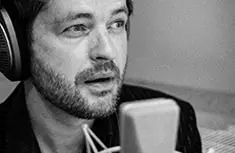 Tango songs with goosebumps factor
For David Tobias Schneider it is now almost frightening how some tango songs from his program describe our present day. He hadn't imagined it to be like that at the turn of the year. Because for him the approach was first of all art and poetry, without wanting to be realistic. His songs are about longing, passion, pain, humor, but also a lot of positivity and hope.
David says: "The premiere followed by a milonga should have taken place in May. But a lot has happened since then. The world has changed. Exactly between these spiritual worlds, heaven and hell, we find ourselves in an absurd and grotesque reality.
It has not become easy for art and culture. I am all the more pleased that the premiere will now take place on October 17th in the "Kleines Theater Haar" and that another performance will be on the program for October 29th in the Munich Theater "Drehleier"! The Milonga, which was planned after the show, we have to postpone indefinitely. "
Text fragment "Heaven and Hell"
Everything was easy, air and light.
It was so easy, why not now?
I don't feel myself anymore
At first much too easy, then too difficult
What's next? What's next?
I am thinking of you
But this thinking drives me crazy!
First euphoria, then sad to death.
Heaven and hell
At the same moment ...
Successful history: "El Tanguero"
Be someone else for once, leave your dull job behind and make your dreams come true! Insurance officer Johann Müller has never got this out of his head since he met the Argentine tango in the English Garden in Munich. He wishes all the more to break out of his boring everyday life, plunder his bank account and start all over again.
In 2014 David Tobias Schneider wrote the musical revue "El Tanguero" for the Lower Bavaria State Theater. This not only tells the story of the unhappily in love dropout Johann Müller, but also offers a foray into the history of the argentine tango.
Together with his dance partner Sonja Armisén, David sang, played and danced through the revue with a lot of charm and verve. The two were musically accompanied by Thomas Rotter on the piano and Bernhard Seidel on the double bass. They played their own interpretations of world-famous tango songs in the footsteps of Carlos Gardel. Always included: a good pinch of humor and irony!
Press
"Schneider melts hearts because the heart is the central organ of Latin American music anyway."
Christian Muggenthaler, Landshuter Zeitung, January 27.1.14, XNUMX
"... including all the tango clichés that David Tobias Schneider charmingly parodied and ironicized over and over again."
Michaela Schabel, Landshut aktuell, January 29.1.14, XNUMX
"EL Tanguero shows in a fast run the whole world of emotions that opens up in tango."
Bavarian State Newspaper. 31.01.14/XNUMX/XNUMX
"Weltschmerz, longing and plenty of eroticism"
Theresa Eisele, Passauer Neue Presse, March 24.3.2014, XNUMX
Detailed article in the Tangodanza, magazine for Tango Argentino No. 4/2014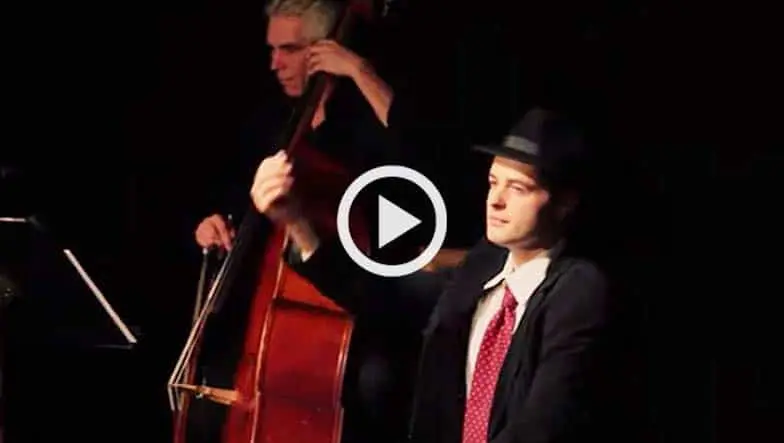 About David Tobias Schneider
David Tobias Schneider completed his acting studies in Switzerland from 2001 to 2005 at the University of Music and Theater / Bern. He was a scholarship holder of the Bavarian Ministry of Art and Science. In 2005 he was awarded the "Loeb Prize" as "Best Young Actor" in the city of Bern.
Subsequently, his engagements took him to theaters in different cities: the Stadttheater Luzern and the Theater Konstanz, also to Zurich, Basel and Karlsruhe. For many years he was engaged at the Landestheater Niederbayern in Landshut. In Munich he played in several productions in the independent scene, including "Team theater". David has been working as a freelancer since 2014, increasingly also for film and television. In 2015 he made his directorial debut with the play "Dangerous Liaisons" at the Theater an der Rott.
In addition to his work as an actor, speaker and director, David Tobias Schneider is a professional dancer and singer. He gives dance lessons and choreographs shows for the theater and for film and television. He also sang in various bands, musicals, operettas and revues.
David and the Tango
David has been dancing Tango Argentino since he was 14 years old, i.e. for over 20 years. His mother gave tango lessons herself in the nineties and introduced him to dance and its culture accordingly. David danced his first tango show at the age of 16.
He then continued his education with renowned dancers from Argentina, Germany and around the world. He has also worked together for many years with Sonja Armisén, who is considered to be the creator of the "Tangofusion" style. Today David is a sought-after tango teacher, coach and movement therapist in Munich.
The focus of his work with tango is a clear interpretation of the music, improvisation, the feeling for one's own body and the relationship with the other. During his acting education he also studied singing - so it was natural for him to sing his first tango songs soon.
Margit Sonnauer and the band "Tango Sur"
The pianist, accordionist and composer Margit Sonnauer was born in Hamburg. For many years she played at the State Theater in Stuttgart. She had other engagements as a stage musician in the "Liederhalle" in Stuttgart and in productions for television. She took over the musical direction of several orchestras, choirs and musicals.
Margit has lived in the Munich area since 1998 and works as a pianist and accordionist at the Ingolstadt Theater, among others. She is also a music teacher, studio musician and composer.
Her collaboration with David Tobias Schneider began with the preparation of Molière's play "Don Juan", which was shown with great success at the Open Air Summer Theater at Nymphenburg Palace in 2019. Margit was responsible for the musical accompaniment of the piece, which contained many original compositions and was clearly influenced by tango.
In the new show "Tangos between Heaven and Hell" she and her band "Tango Sur" provide the musical accompaniment.
Clear the stage for the tango program
Two beautiful and traditional stages are the venues for the new show with tango songs by David Tobias Schneider. The premiere is at "Kleines Theater Haar", another performance takes place in the theater "Drehleier" in Munich.
The small theater of hair
The magnificent house in which the "Kleines Theater Haar" is located is a true Art Nouveau jewel. In 1912 it was given to the community of people working in psychiatry. In its eventful history it has been a lot: pharmacy, bed dorm or cinema.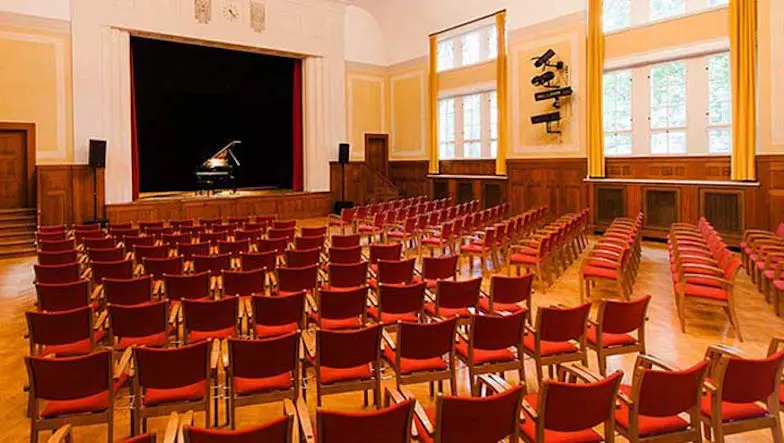 Today the "Kleines Theater Haar" is again what it should always have been: a cultural center with a varied program consisting of music, drama, cabaret and more. In addition, the house feels obliged to social culture, in the spirit of its sponsors: Upper Bavaria district, the community of Haar and the kbo-Sozialpsychiatrisches Zentrum gGmbH.
In addition to a large, variable theater hall, there is a beautiful café, which also offers a small stage for more intimate performances. The house also has a garden for open air events.
The "Theater Drehleier"
From 1976 to 1997, the Drehleier Theater, operated by Werner Winkler, was located on the corner of Balan and Pariser Strasse in Munich. Countless cabaret programs, revues, variety shows or comedy shows took place in these rooms.
In 1997 the Drehleier moved to Rosenheimerstrasse 123, very close by. The move became necessary because the old building was to be renovated. Larger rooms were also found in Rosenheimer Straße, whereby the original decoration of the old location could be integrated.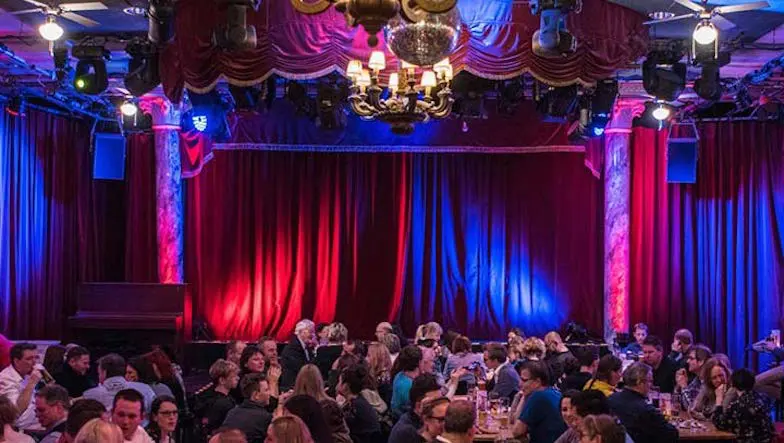 All the greats of the cabaret scene gave each other the honor in the Drehleier: Sigi Zimmerschied, the Spider Murphy Gang, Konstantin Wecker, BAP, the Erste Allgemeine Verunsicherung, the Revue Theater Blackout, the Biermöslblosn, the in-house Varieté Spectaculum, Ringsgwandl, Bruno Jonas, Jörg Hube, Ottfried Fischer and many more.
David Tobias Schneider is in illustrious company when he presents his new tango songs here!
Reservations
Premiere - Kleines Theater Haar on October 17.10.2020th, 19.00 at XNUMX p.m.
Reserve tickets online here
Address: Kleines Theater Haar, Casinostr. 6, 85540 hair
Phone: 089 / 890 56 98 10
S-Bahn station Haar: walk approx. 7 minutes. The Kleines Theater Haar has a large car park (free of charge).
Performance of the Theater Drehleier on October 29.10.2020, 20.00 at XNUMX p.m.
Reserve tickets online here
Address: Theater Drehleier, Rosenheimer Str. 123, 81667 Munich
Phone: 089 / 48 27 42
S-Bahn station: Rosenheimer Platz or Ostbahnhof, U-Bahn: U-5 Ostbahnhof. Car parking lot at the City Hilton.
Links
Click here for the album "Between Heaven & Hell" on band camp.
David Tobias Schneider (Actor, dancer, singer)
Margaret Sonnauer (Pianist, accordionist, composer)
Nenad Uskokovic (Cellist)
Lori Lorenzen (Guitarist)
"Tangodanza" - Magazine for Tango Argentino
Event in cooperation with You Tango.
***
Photos: Leander Hartung, David. T. Schneider, hurdy-gurdy, small theater hair.
***