Here you will find popular live orchestras, duos, soloists and tango DJs for good tango music at every event. A compilation of useful contacts for beginners, experienced, professionals, organizers, tango teachers and other tango aficionados!
Tango DJs for every musical taste
Whether local milonga, marathon, festival, encuentro or private party: there is a suitable tango DJ for everything, who ensures a great atmosphere with selected tango music! We introduce some DJs here.
Damian Boggio: The Argentine, who lives in Italy, only plays real vinyl records from his extensive private collection. He used to be the house DJ at the famous Salon Canning in Buenos Aires for years. Website URL

Flavia Cristaldo grew up in Buenos Aires and lives in Starnberg, Germany. She has been involved with tango for 19 years and is a professional dancer and tango teacher. As a DJ, she plays atmospheric, traditional tandas. Facebook

Analía del Giglio - "La Rubia" from Rosario / Argentina currently lives in Spain and is one of the most popular DJanes worldwide. It is not missing at any of the important international festivals. Facebook
Ariel Salto is one of the most famous DJs in Buenos Aires and plays the most important milongas there. Ariel is regularly invited to festivals in Europe. His style is traditional. Facebook
Gustavo Gomez from Misiones / Argentina lives near Munich, Germany is a tango teacher and show dancer. As a DJ, he puts on a powerful, emotional style that leaves no one indifferent. Website URL
Other well-known DJs who have played at numerous international tango events and their music style: Marcelo Rojas (traditional), Theresa Faus (traditional), Christoph Grohs (traditional), David Mancini (traditional), Sonja Armisén (neo), Jochen Lüders (neo), Anthony Cronin (traditional), Melina Sedó (traditional), Jonas Maria "Joma", Massimo Tessari ...
Performers of tango music
Tango music is diverse: there is tango songs or chansons with guitar accompaniment, small chamber music ensembles or large orchestras. Here we present some of the most popular current duos, soloists or tango orchestras that travel the world to perform live at milongas, festivals and encuentros.
Ranas - Dúo Porteño De Tango
Leandro Schnaider and Pablo Schiaffino, the famous duo de tango, enchants every audience with their virtuoso interplay of bandoneón and piano. Website URL
The internationally acclaimed Dúo Ranas, consisting of Leandro Schnaider (bandoneón) and Pablo Schiaffino (piano), was founded in 2007 and has been touring Europe twice a year since then. Typical is their precise and passionate approach to listening, deciphering and condensing the old recordings left by the great orchestras of the last century. They play beautifully danceable tangos, valses and milongas and already recorded three CDs.
Sexteto Milonguero
The Argentine formation Sexteto Milonguero caused a sensation all over the world with their energetic style and released 3 CDs. Singer and front man Javier Di Ciriaco released his first solo CD in 2017.
The Sexteto Milonguero with the exceptional singer Javier Di Ciriaco was for many years considered the "hottest" tango orchestra in the world. In the summer of 2020, to the regret of the fans, its dissolution was announced. It was founded in 2006 with the desire to reproduce the typical music of the old tango bars: classic arrangements paired with joy of playing. In their tango concerts, the six musicians literally brought the halls to a boil. They interpreted the well-known standards in a fresh and contemporary way, and they also played their own compositions. From 2006-2020 the Sexteto Milonguero regularly toured Europe, Asia, South and North America. After that, to the regret of many fans, it was announced that it was disbanding.
Carlos Quilici and Los Tauras
Carlos Quilici y Los Tauras - the quintet around the outstanding bandoneonist has been inspiring for years with its danceable, rhythmic style. Facebook

Carlos Quilici founded the Quinteto Los Tauras in the Argentine port city of Rosario 20 years ago. Since then it has been celebrating a success story: With 4 CD recordings, several European tours and constant media presence in their home country, the musicians have played their way into the heart of the milongueros. The quinteto convinces on the one hand with its rhythmic style, on the other hand with the virtuoso and passionate playing style of the musicians, which goes straight into the legs of the dancers. Carlos Quilici, the leader and bandoneonist of the Quinteto, is a fixture in today's tango music scene in Argentina and Europe.
Orchestra Romantica Milonguera
The 10-piece orchestra became famous for its original music videos. It plays soulful new interpretations of popular classics with harmonious vocal duets. Facebook
With the young formation from Buenos Aires, the Tango Argentino becomes romantic. The repertoire of the five women and five men prefers the sensual, melting crowd hits of bygone times and lets them come to life again with virtuosity. Outstanding singers like Marisol Martinez, Hache de Huilén and Ximena Gimenez as well as singer Roberto Minondi take turns interpreting the pieces or sing in two-part duets. The orchestra was best known for its professional and funny music videos and is currently one of the most sought-after tango formations.
Noelia Moncada
The young singer appears as a soloist and with various orchestras. She regularly travels to Europe for concerts and has already released 7 albums. Website URL
Noelia Moncada is considered the best tango singer of the young generation. She was the female voice of the festival celebrating Astor Piazzolla's 90th birthday. She gives tango concerts as a soloist or with orchestra accompaniment on all major live stages in Buenos Aires as well as in Europe.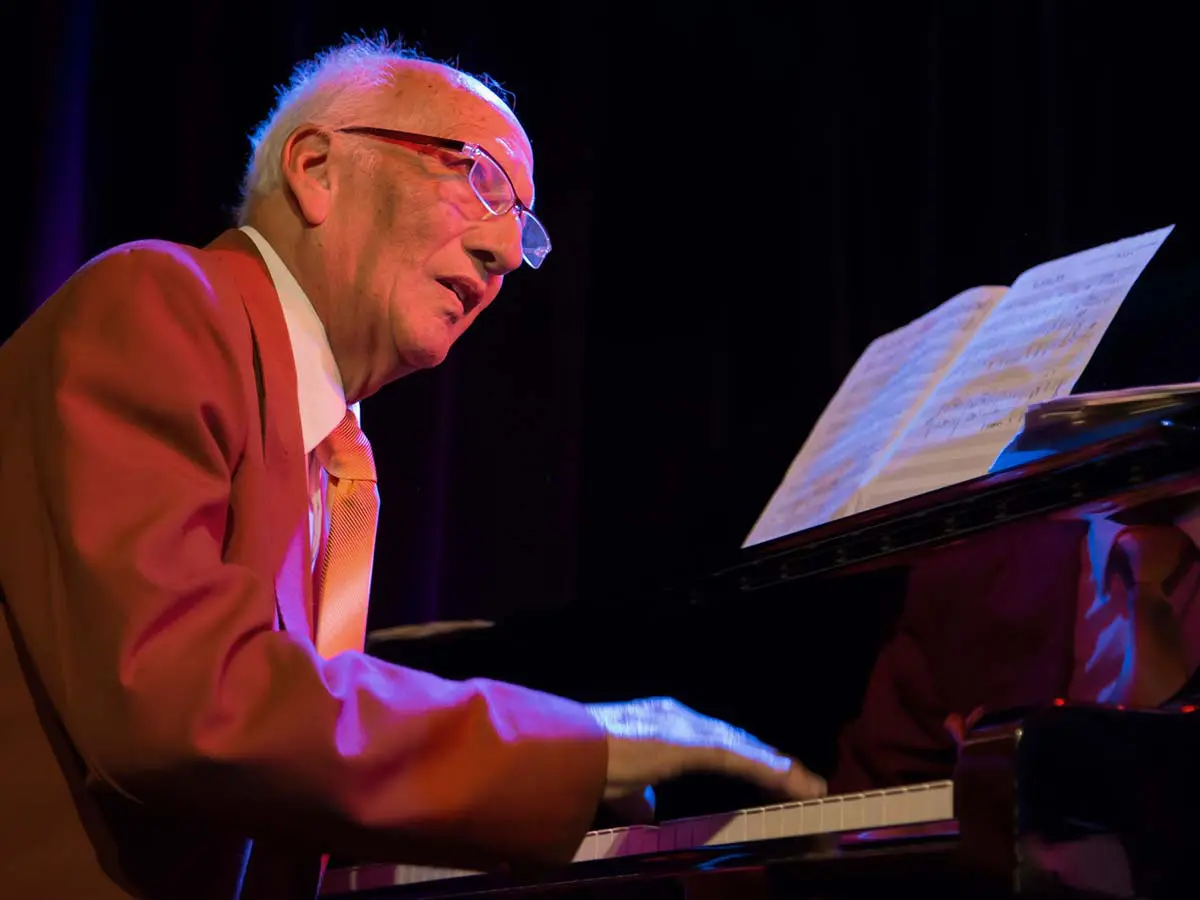 Roberto Siri
The old master of tango played with the greatest musicians of the golden era. He currently performs with various formations and travels to concerts all over the world. Facebook
Roberto Siri is a legend of tango music. In the golden age of tango he was known as America's youngest conductor and founded his own sexteto at the age of fourteen. He learned from masters like Horacio Salgan, jumped in for Rodolfo Biagi on his tour and accompanied singer legend Raul Berón for twenty years. He is an original, a gifted pianist and tours through the world as an ambassador of the Tango Argentino . He is also committed to training young tango musicians.
Beltango Quintet
The five excellent musicians from Belgrade combine perfect, virtuoso playing technique with passion and a deep understanding of tango. Website URL
Alexandar Nikolic, bandoneonist, founder and artistic director of the Quinteto Beltango from Belgrade said in an interview: "We are totally unusual". This is due to the peculiarity of their music-making: the highest virtuosity and perfect playing technique of all musicians are combined with an authentic passion for the Tango. In addition to traditional tangos, the quinteto also plays their own compositions with elements from Balkan music.
La Juan D'Arienzo
The 10-piece young orchestra revives the style of Juan D'Arienzo in a refreshing way. The arranger is Facundo Lázzari, grandson of Carlos Lázzari, who arranged for D'Arienzo himself. Website URL
The orchestra was founded in Buenos Aires in XNUMX with the aim of authentically reviving the incomparable rhythmic style of "Rey del Compas" Juan D'Arienzo and bringing it closer to the next generation in a new guise. The highly talented young musicians exude an energy that creates enthusiasm. They bring a full, rousing sound to the stage that nobody can stay seated for. To listen - or a reason to learn to dance!
More tango musicians & information
From Argentina: Tango Bardo, El Cachivache, Cuarteto Mulenga, Orquesta Victoria, El Afronte, Leonel Capitano
From Russia: Solo Tango Orquesta, Tango En Vivo
From Poland: Bandonegro
From Italy: Quinteto Angel, Hyperion Ensemble, Orquesta Caminito,
Tango Spleen
From the Netherlands / Germany:
Cuarteto Rotterdam, Sexteto Cristal
If you want to find out about the most famous orchestras and personalities from the golden era of tango, you will find some famous names in our Tango Lexicon.
A true tango encyclopedia with all information about musicians, orchestras, composers and tango texts can be found on the four-language Argentine site todo tango
There is a large selection of books, CDs, sheet music, instructional videos and films on the subject of tango music in the magazine's online shop "Tangodanza".
Listen to tango on Spotify
On the music platform Spotify we have in cooperation with the music platform "Danza y Movimiento"Playlists put together that you can listen to for free: Tangos, Milongas and Valses in all styles from traditional to modern. There is also a playlist of Argentine folklore, which has become increasingly popular at European tango events in recent years. It's worth listening to! Simply click on the playlist you want to be forwarded directly to Spotify.
Spotify playlists
Danza y Movimiento - music
DyM-Musik is a worldwide unique platform for Latin American music. It offers a Music shop with over 6.000 titles, the music publisher "Ediciones La Palmera" and a large collection of Royalty-free music. This includes around 480 copyright-free tangos. Very interesting for DJs and organizers of milongas! Here it goes to Dance and movement.
***
Cover photo (bandoneonist Ignacio Claramonte from Sexteto Milonguero) and photo of Roberto Siri at the piano: Thomas Lackner
***