Bandonegro is a world-class young Polish tango orchestra. Founded in 2010, it is now recognized as one of the finest and most intriguing ensembles of its generation. Now the band has released their fifth album, Color Aires. Here's another outstanding performance from the talented young musicians. Their perfect mastery of the instruments, combined with playing sophistication and passion, convinces across the board.
By Karin Lüders and Michaela Lugo
Musical journey to magical Buenos Aires
In the colorfully illustrated booklet of their new CD, the members of Bandonegro promise a lot. "With this album we want to show that the tradition of tango can acquire a new sound, is constantly evolving, attracts and inspires audiences. Every single piece contains our full temperament, our expression and our passion. With this we take the audience into the magical, colorful world of Buenos Aires."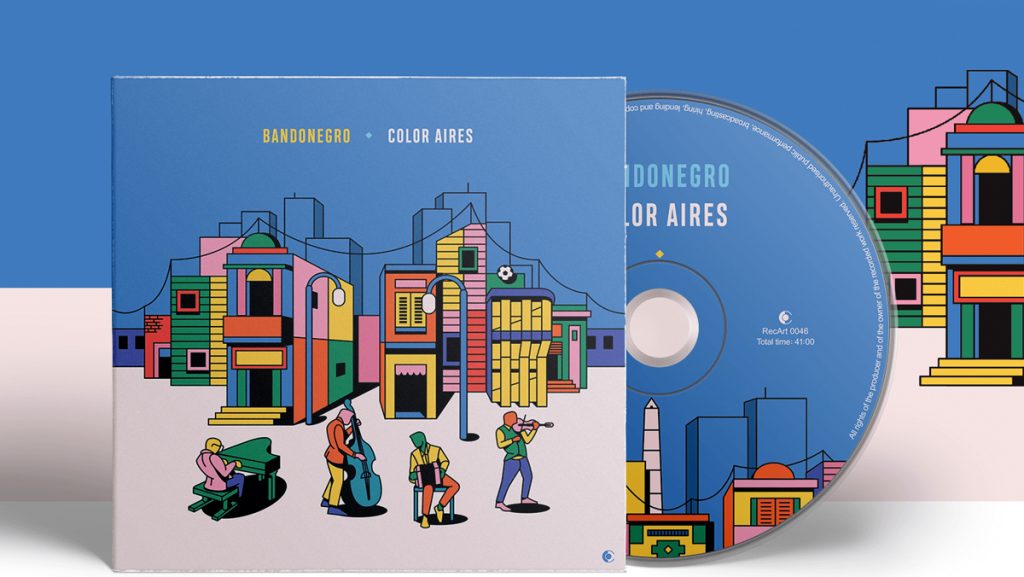 And the musicians keep their promise! The four young virtuosos play classical tangos, valses, milongas and tango nuevo in traditional arrangements at a very high musical level. These are enriched with their own musical ideas and passionate playing style.
Pieces that are close to the hearts of the musicians
"We are pleased to present a selection of well-known, outstanding tangos, milongas and Argentine valses that are particularly close to our hearts". That's what the CD booklet says.
The selected pieces are carried by perfect sound and tremendous joy in playing. Full Tango Articulation and a very successful interweaving of the instruments make classics like Felicia and El Puntazo a pleasure for dancing and listening to. Canaro in Paris surprises with a sensually retarded middle section and closes with a real firework of harmonies. Here you can fully enjoy traditional tango, peppered with young, virtuoso joy of playing.
Cool milongas and radiant valses
In the groovy milongas No hay Tierra like la mía and Reliquias portenas the instruments shine with colourful, dense playing. Despite virtuosic articulation, they never lose their cheeky light-footedness. It's simply fun!
Outstanding here Silueta portena: It opens with a syncopation. This percussion-like emphasis is taken up again in the middle section and makes the milonga a sensual experience. A great match of tradition and freshness!
Music video for "Silueta Porteña" with Panagiotis Triantafyllou and Agnieszka Stach
The radiant valses Palomita blanca and Desde el Alma convince with romantic flowing gesture. The instruments communicate wonderfully with each other. A real pleasure here is the virtuoso ease of handling the instruments.
The arc to Tango Nuevo
In Tango Nuevos La Bordona, A mis Viejos, A los Amigos and Zum create an exciting alternation of strongly marked staccato passages and dramatic legato arcs. The art of changing the tempo at melodic highlights, combined with a passionate way of playing, guarantees goosebumps.
With a rhythmically distinctive La Cumparsita in the style of Juan D'Arienzo, the young tango musicians say goodbye and leave happy listeners behind! For the most famous of all tangoes, Bandonegro presents a music video starring the masterful couple Lorena Tarantino and Gianpiero Galdi.
Music video for "La Cumparsita" with Lorena Tarantino and Gianpiero Galdi
The new album Color Aires has been available for streaming on Spotify, Deezer, Apple Music, iTunes and Amazon Music since September 30.09.2022th, XNUMX. It is also available on CD. You can buy it directly at the Bandonegro web shop, at their concerts or on the website of Tango Dance Magazine magazine.
The career of Bandonegro
Bandonegro - that's Michal Glówka on bandoneon and accordion, Jakub Czechowicz on violin, Marek Dolecki on piano and Marcin Antkowiak on double bass. The four musicians, all born in 1993, have known each other since childhood. They attended the same school for musically gifted young people. In addition to regular lessons, they received qualified training on an instrument of their choice.
Michal Glówka - Bandoneon

Marek Dolecki - Piano

Marcin Antkowiak - double bass

Jakub Czechowicz violin
After leaving school, they first went to various music colleges. The friends stayed in touch, however, and their enthusiasm for the tango began during her studies. They wanted to devote themselves to this genre later, they agreed!
Early admiration for Astor Piazzolla
The trigger for this was the fascinating music of Astor Piazzolla, with which the gates to tango opened for them. The four talented teenagers first graduated from the conservatories as professional musicians. In 2010 they founded their own tango ensemble.
At the age of 18, the young Poles won the international competition "PIF Castelfidardo" in Italy. Their first album was released almost a year later and was named Tango Nuevo by Astor Piazzolla.
Orquesta or Cuarteto?
It was only later that they discovered and researched the tango of the "golden age", the large orchestras and sextets of that time. For the young quartet it was like a journey into an unknown musical adventure.
They now deliberately call themselves "Tango Orquesta" instead of "Cuarteto" or quartet. Their style is actually less chamber music-like than is usual with four-piece formations. They often achieve a sonority that makes one suspect a much larger troupe. They also owe this to the fact that they have carefully studied the stylistic devices and playing style of the old orchestras.
Legendary Argentine dancer Nito García said of the musicians: "A unique energy and distinctive sound. There are only four of them on stage and they sound like a ten-piece orchestra!"
Classic tango with a fresh sound
Bandonegro stands for traditional Argentine tango, but also Tango Nuevo and own compositions with elements of jazz and classical music.
However, as representatives of the younger generation, they also want to play contemporary music. It is intended to inspire a younger audience for the tango and encourage them to dance. They also deal with neo and electro tango, supplementing their line-up with other instruments such as drums or electric guitar. For example, you can hear their version of "Englishman in New York" at concerts.
Celebrated performances in Buenos Aires
In 2019, the young Poles traveled to Buenos Aires for five weeks. There they gave sixteen concerts in the most famous tango clubs and halls like the Salon Canning. They also performed at the Argentina Tango Salon Festival. At the final of the Tango World Championship, they performed their own arrangement of the classic Gallo Ciego. Everywhere they were able to surprise and inspire their audience.
Statements from Argentine music legends
José Colángelo, the last pianist in Aníbal Troilo's orchestra, said after a Bandonegro performance: "I never thought that Poles could play tango so fantastically! All respect!" And Fernando Suárez Paz, longtime violinist in Astor Piazzolla's "Quinteto Nuevo Tango", said: "Your music touches the heart. I really enjoyed hearing you guys!"
Music to dance to, concerts to listen to
Bandonegro's repertoire includes over 70 tangos, milongas and valses with a particularly danceable character, selected in collaboration with the best European DJs.

With a great sense of style, the ensemble interprets the pieces of the great orchestras such as D'Arienzo, Di Sarli, Pugliese, Troilo, Canaro or Sassone. Their tremendous energy, passion and emotion immediately creates close contact with the dancers. So the dance floor is always full during their performances!
Their program also includes concert music, which is intended more for listening. For example, concerts are often given at the opening of festivals, where guests who are not dancing can also listen to the tango sounds.
Bandonegro in Buenos Aires - the film
The leitmotif of this film is the tango, which originated in the port districts of Buenos Aires and has meanwhile become an international world language "without words".
Documentary by Fabio Sánchez Vidal
The documentary by Fabio Sánchez Vidal accompanies the four young tango musicians who traveled from Poland to Argentina to fulfill their dream of playing in the most famous halls of the tango capital.
Movie trailer for "Bandonegro in Buenos Aires"
In this film we learn a lot about the band members, about the music that brought them together, about their goals, motivations and dreams. From impromptu soccer games in the La Boca neighborhood to testimonies from tango legends to underground milongas Bandonegro in Buenos Aires shows a tango that was never seen before.
A look at Argentine culture
The film is also a journey into the depths of Argentine culture, which is firmly rooted in the dance and customs typical of South America. The documentary also looks at the problems facing Buenos Aires today. All of this is supported by statements from the Portenos, the residents of Buenos Aires. And of course there is a lot of tango music to listen to!
Bandonegro's released albums so far
Tango Nuevo by Astor Piazzolla (2012)
The group's first album. It contains fresh interpretations of acoustic compositions by the Argentinean master of Tango Argentino, Astor Piazzolla. Ten Pieces, from the Famous Libertango and Oblivion about the energetic Escualo and The Death of the Angel to the atmospheric Milonga del Angel or Resurrection del Angel.
Tanchestron (2017)
Well-known pieces by famous orchestras from the golden era of tango in the style and arrangement of the Bandonegro Tango Orquesta. The first album of its kind recorded in Poland, a response to growing interest in tango dance and the tango music in the country. The result of a passion and an amazing perseverance in the search for the origins of tango.
Hola Astor (2019)
A subtle fusion of tango with jazz and rock. The beautifully arranged, carefully selected pieces by Astor Piazzolla were combined with original compositions by Bandonegro. The collaboration with two young stars of the Polish jazz scene, Dawid Kostka on electric guitar and Mateusz Brzostowski on drums, makes the album's sound fresh, catchy and up-to-date.
Bandonegro play their own composition "Vislumbrar" in a sextet formation
Tangostoria (2020)
This album, in traditional tango style, contains selected compositions by artists such as Aníbal Troilo, Lucio Demare, Vicente Greco, Horacio Salgán and Astor Piazzolla. Despite the variety of styles of Argentine composers, the work is a coherent whole and comes across as a fascinating musical narrative! Bandonegro worked here with the Uruguayan singer Andres Martorell.
We're excited to see what Bandonegro has in store for the future!
***

A big thank you to Michaela Lugo for the expert support with the CD review!
Photos and video material: Bandonegro
Links
Go to the website of Bandonegro
Bandonegro on Facebook
Click here for the webshop of the magazine "Tangodanza"