If you want to travel to Buenos Aires to dance tango, the question arises in advance: Where should I stay? Especially for travelers who are visiting the city for the first time, the so-called Tango hotels or "Hostales" are a good choice. These are mostly small, family-run guesthouses that offer individual service for tango dancers. We present here one of these houses: the Apassionata Tango Hotel in the center of Buenos Aires.
A guest house for the tango lifestyle
In the Balvanera district, near the Plaza del Congreso, lies the cozy hotel "Apassionata Tango". It is located in a relatively quiet side street, but not far from a subway station. From here you can quickly get to other parts of the city - for example to the modern harbor district Puerto Madero, to the historical San Telmo or to the Microcentro with its popular shopping streets. Of course, there are also several bus stops, and cabs are constantly driving through the neighborhood, so you never have to wait long.
Apassionata Tango Hotel: nostalgia and a lot of flair
In 2010, Argentine Fabián Acosta, together with family and friends, restored the pretty 19th century townhouse. The dark red facade with white stucco elements has a lot of nostalgic flair. You don't realize it's a hotel until you stand right in front of the door and read the artistically painted lettering "Apassionata Tango."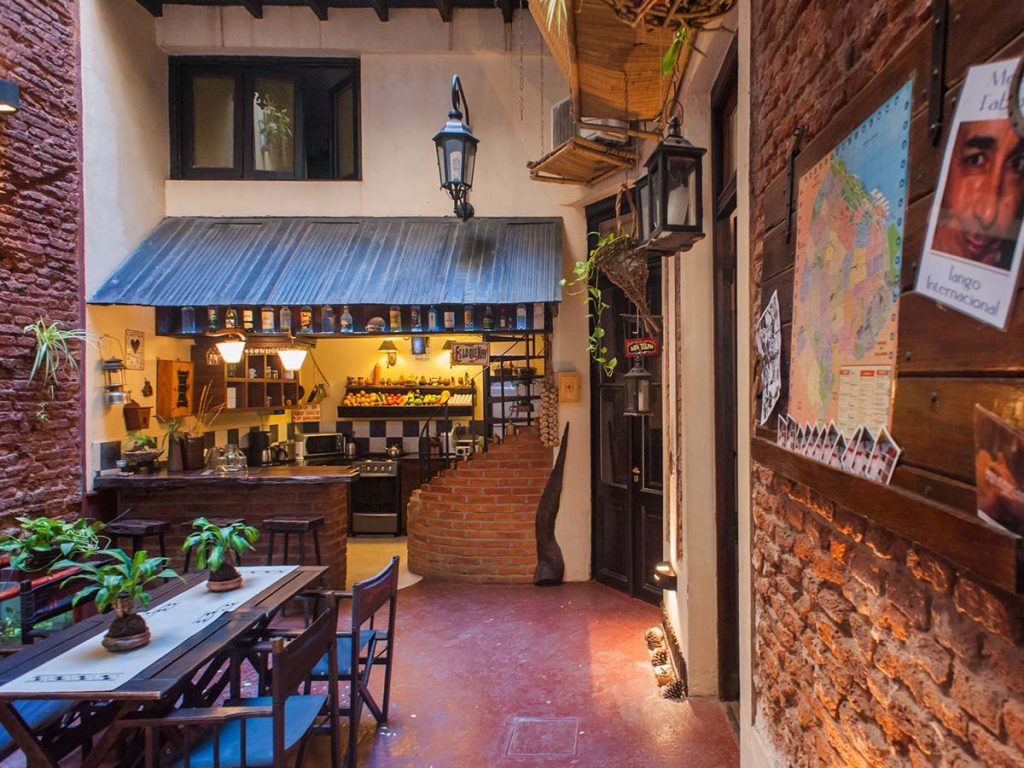 An open patio serves as a breakfast room, bar and meeting place during the warmer months. Right next to the entrance is the splendor of the house, a beautiful dance hall with a large mirror, which is used for tango lessons and parties. Fabián Acosta is not only a professional tango show dancer, but also a tango teacher. You can book lessons with him on request, and he is also a master of Argentine folklore. So if you always wanted to learn Chacarera or Zamba, this is the right place!
At home in Buenos Aires
Dark wooden beams, bricks and walls elegantly decorated with calligraphic quotes give the house a romantic atmosphere. In addition, tango music is almost always heard, so there is a good mood and the desire to dance!
Eight rooms of different sizes have been lovingly and tastefully decorated according to tango themes. They have catchy names and are grouped on several floors around the open patio. The hotel also offers a large roof terrace with sun beds and lounge furniture, where you can sunbathe, relax or have a barbecue together.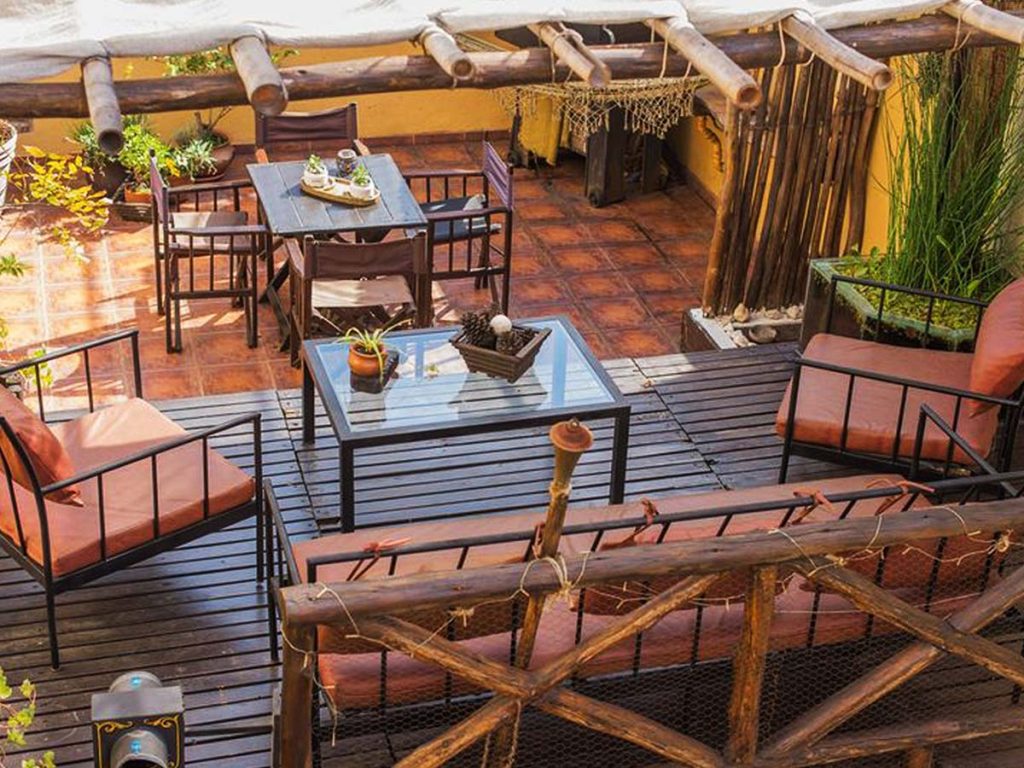 International atmosphere
The idea for the hotel's name came from the Italian hit "Appassionato Tango" from 1961 - merged with "apasionada", the Spanish word for passionate. The name says it all, because host Fabián Acosta loves and lives the tango. He is also charming and cordial, making his international guests feel right at home. Since he lived and taught in Germany for a number of years, he speaks good German – and also English and French.
Singles who appreciate a convivial atmosphere feel particularly comfortable at Apassionata Tango, but so do couples or groups. You can meet other guests casually on the patio for breakfast, which is served until 11 a.m. for late risers. There you can make new acquaintances and share plans for the day. Many guests come from German-speaking countries, but otherwise communication is in English or Spanish.
What's nearby?
The Apassionata Tango Hotel is located in the center of Buenos Aires. It is only 200 meters away from the famous Café de los Angelitos, where many greats of tango have frequented. In the evenings you can admire elegant tango stage shows in the in-house theater, during the day it's just a beautiful, quiet café.

It is 250 meters away from the subway station Pasco, 300 meters from Carlos Gardel's former home and 500 meters from the Parliament building and the Plaza del Congreso. Plaza de Mayo, Café Tortoni and the world famous Opera House Teatro Colón are also within walking distance or a few minutes by bus or subway.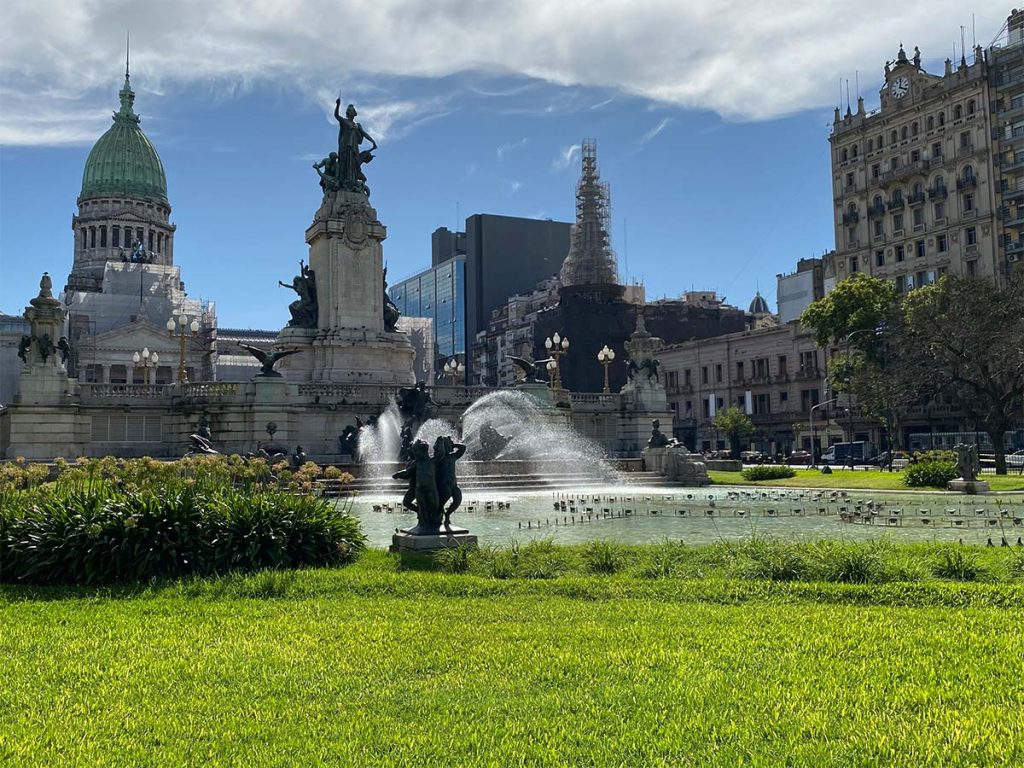 Moreover, many well-known tango halls and milongas are located near the hotel. For example the famous El Beso, where tango is danced several times a week, or La National, also home to various milongas. Recently, you can also dance right in the Plaza del Congreso!
Fabián Acosta accompanies the guests to the events on request, organizes reservations and always knows where a great milonga is taking place on the respective day. He also gives good advice on the ambience there and the dress code, whether more elegant or casual. In the vicinity of the hotel there are also several stores for Tango shoes and Dance fashion as well as renowned tango schools, such as Estudio Copes-Valdez.
Special: the tango tour
A special offer of the guest house are the multi-day tango tours, which can be booked in addition to the accommodation. A tango tour is definitely an exciting experience and offers a combination of cultural experiences, lots of tango and a deep immersion into the atmosphere of Buenos Aires, the largest tango metropolis in the world.
Milongas, culture and shopping
Even the private pick-up service directly from the airport, by Fabián himself or a driver selected by him, is a pleasant and safe start. In the following days, intensive tango lessons, as well as joint visits to milongas, shows and concerts are on the program. On request, so-called "taxi dancers" can also be invited to the milongas, i.e. experienced dancers with whom the ladies can make their first rounds on the dance floor. This is a great way to get started, especially on your first visit to Buenos Aires!
A shopping spree to the trendiest tango shoe stores and tango sightseeing, such as a visit to the Carlos Gardel Museum, are also part of the program. Guests stroll through colorful street markets with handicrafts, learn about historical tango bars and the Argentinian cuisine. You will taste Argentine wines and the famous asado, experience pure tango lifestyle – all far away from normal tourism! Tango tours can be organized individually on the desired date or in a group if there are enough interested parties. They usually last 10-14 days.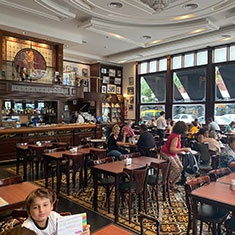 Further activities
Learning tango for every taste
Learning to dance tango in Buenos Aires is a multifaceted affair. There is a huge range of dancers, teachers and tango schools. It is not easy to get an overview here in a short time. Fabián Acosta is happy to give recommendations so that every guest can quickly find the right thing. You can also train with a private teacher of your choice in the hotel's beautiful dance hall.
Sightseeing in the metropolis
Buenos Aires has a lot of interesting things to offer: the quaint flea market in San Telmo, the graveyard La Recoleta with its marble temples, Teatro Colón, the Obelisco, the Casa Rosada on the Plaza de Mayo, the Gaucho Market or the Botanical Gardens. Fabián gives valuable tips, even if you haven't booked a tango tour or it's already over. After all, you might want to stay longer...
Excursions to other parts of Argentina
Fabián Acosta also advises his guests if they are interested in excursions to Iguazú, Salta or Patagonia. Argentina is not only Buenos Aires and tango, but is also considered one of the most beautiful travel destinations in the world!
Learning Spanish
Spanish is easy to learn and there are good language schools in Buenos Aires. So why not combine tango and Spanish? Argentine Spanish differs significantly from the European variant. It is enriched with many Italian words and expressions from the Slang, the dialect of the inhabitants of Buenos Aires. For this reason alone it is worth learning on site! The lessons can be flexibly adapted to the travel schedule during the tango tour, or you can plan your stay according to your own schedule.
Hotel, hostal or guesthouse?
In Argentina, a house like the Apassionata Tango is called a hostal. This means a mixture of hotel and guest house or pension. The difference is that a hostal is managed more individually and the guests are looked after personally. But it's not a hotel in the traditional sense – for example, there's no round-the-clock reception. The guests are given a key and can therefore return home at dawn. By the way, the rooms can also be rented for longer periods, just like in a guesthouse.
Individually designed rooms
All of the Apassionata's hotel rooms are furnished differently, but each one exudes a lot of tango atmosphere. Some rooms have two floors, whereby the sleeping floor can be reached via an internal staircase.
Hotel guests can choose from 8 lovingly decorated themed rooms in different sizes and price ranges: the stylish Carlos Gardel, the cosy Tangueria, the authentic San Telmo, the elegant Evita, the quaint Tango bar, the colorful La Boca , the peaceful Tango Zen and up on the sun terrace the rural Estancia.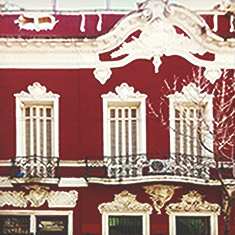 Good to know: Two of the rooms do not have a window directly to the outside, but to the airy dance hall, which in turn has outside windows. But these rooms are particularly quiet. Two other rooms share a bathroom, while another has a bathroom in the hallway. All of this is common in historic Buenos Aires townhouses, so it's a good idea to find out what each room offers. There is something for everyone!
Prices: Room with breakfast from 60 euros per night, depending on the season. Please ask for period, room type and tango tour on request.
Services of the Apassionata Tango Hotel at a glance
Breakfast buffet until 11 a.m
Free WI-FI in all rooms
Private safe
Personalized support
Ticket reservations
Personal airport transfer
Free luggage storage
Group tango tours
Special tango tours for solo travelers
Own tango salon
Private lessons in tango and Argentine folklore
Booking of taxi dancers
Current information about milongas, live music etc.
Polo Experience Day
Tigre Delta Adventures
Tango relax massages
Laundry service
The tango scene: like a phoenix from the ashes
Argentina had the world's longest lockdown during the pandemic. Life has become even harder for the people of Buenos Aires since then. On the one hand, the metropolis is full of energy and a new zest for life, but on the other hand, poverty has grown. There are more unemployed and homeless people, and there is also extreme inflation. Tourists from Europe benefit from this and can live cheaply, but the other side of the coin is visible everywhere.
The tango world has reawakened
Since the beginning of 2022, the tango scene in Buenos Aires has really blossomed and reinvented itself. Many new milongas have opened, while some of the tried and true ones have remained closed. Dance floors are full, new orchestras have been formed and have recorded CDs. Live music and dance shows are everywhere. Another novelty is the Electro Tango Festival, which will now be held every year. At the milongas you can completely forget the hard everyday life for one evening. Perhaps this is the reason for the newly awakened desire to dance?
Restart of the hotel business
The Covid years were very difficult for all hotels in Buenos Aires because there was no tourism anymore. Many houses had to close or saw their existence threatened. The Apassionata Tango also had corresponding difficulties. Among other things, Fabián Acosta rented his rooms cheaply to artist colleagues who could no longer afford their apartments.

Since the spring of 2022, however, things have been looking up. The tourists and tango dancers are coming back. The Apassionata Tango Hotel has been freshly renovated and is now looking forward to welcoming new guests!
Video tour of the hotel with Fabián Acosta
Contact Apassionata Tango Hotel
The hotel has one new website, it can also be found on Facebook and Instagram – with many more photos and information. You can contact Fabián Acosta via Facebook Messenger, email or WhatsApp, also in German.
Email: tangoapassionata@gmail.com
Mobile and Whatsapp: +54 9 11 6684-6512
Address: Apassionata Tango Hotel, Pasco 272, C1081 Congreso, Buenos Aires, Argentina
***
Photos: Fabián Acosta/Apassionata Tango Hotel, Karin Lüders
***
Other Tango Hotels will be presented in a loose sequence on this blog.
***