What does milonga actually mean? The word "milonga" has two meanings: On the one hand, it describes the typical dance festival for Argentine tango, where dancers of all levels meet. On the other hand, Milonga is the name of a special musical genre of Tango: its popular and rhythmic precursor - and the associated dance style.
What can I expect at a milonga?
A milonga, the typical dance festival for Tango Argentino, is attended by Milongueras (Ladies) and milongueros (Gentlemen) to dance to the three rhythms: Tango, Vals and Milonga (here: genre of music). Three to five pieces of the same style are forming so-called Tandaswhich, through short musical interruptions - Curtains - are separated from each other. The music is selected by a tango DJ or played live.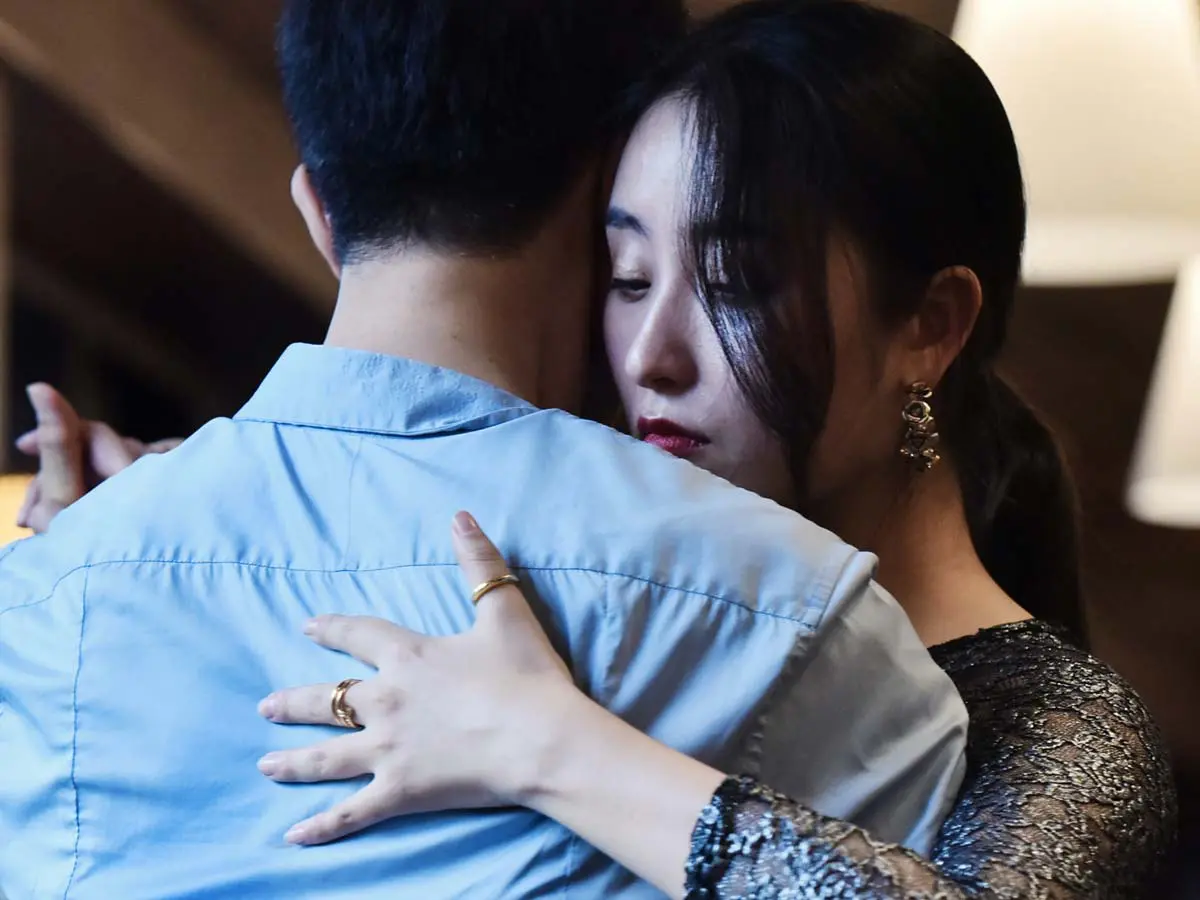 Milongas were already around when the tango was created. In Buenos Aires these were happy get-togethers in humble locales where the neighborhood met every week. Of course there were also elegant ones dance balls, where tango was played - whether in Buenos Aires, Paris or Vienna. But these were special events for which one dressed festively.
Today, milongas can take place anywhere there is space: in magnificent historic halls, former factory buildings or lofts, in parks or on public squares, in inns, hotels or backyard studios. Depending on the ambience, the style of clothing ranges from elegant to casual.
The course of a milonga is regulated by codes - Códigos , which can differ significantly from one event to another (see also Tango Lexicon). A special form of the milonga is the Práctica, a pure practice milonga. Here dancers of all levels meet for casual practice and experimentation, and new figures are also developed. The "etiquette" is not so important here, the dance fashion less elegant and the music mostly not in Tandas divided.
Encuentros, marathons and festivals
Multi-day tango events such as Encuentros (meetings), festivals and marathons are becoming increasingly popular. A program of several milongas in a row is offered here, well-known show couples perform, you can attend tango workshops and usually there is also live performedtango music.
These events require a higher level of dance, you have to register for them and many visitors come from far away. This gives you the opportunity to dance with unknown dance partners of various origins. So Tango Argentino stays always exciting!
Well-tried rules of the game for the milonga dance slope
In a traditional milonga, chairs and tables are arranged around the dance floor. Invitation to dance happens without words, through eye contact - Mirada - and the approving nod of the head - Cabeceo. Usually the man "asks" the woman, but she also plays an active role.
At the end of each Tanda dancers usually say thank you and goodbye. The gentleman doesn't let the lady stay on the dance floor - Mobile , but directs her back to her place.
The Curtains (short musical interruptions of the Tandas) are primarily used to change partners. Breaking up while a tanda has not yet been completed - or even before the end of a piece - is considered impolite.
Nowadays these customs are seen more loosely, especially in Europe. You can also ask to dance with words and women can ask their dream partner themselves. At some milongas there are no Tandas and Curtains, but just played music continuously.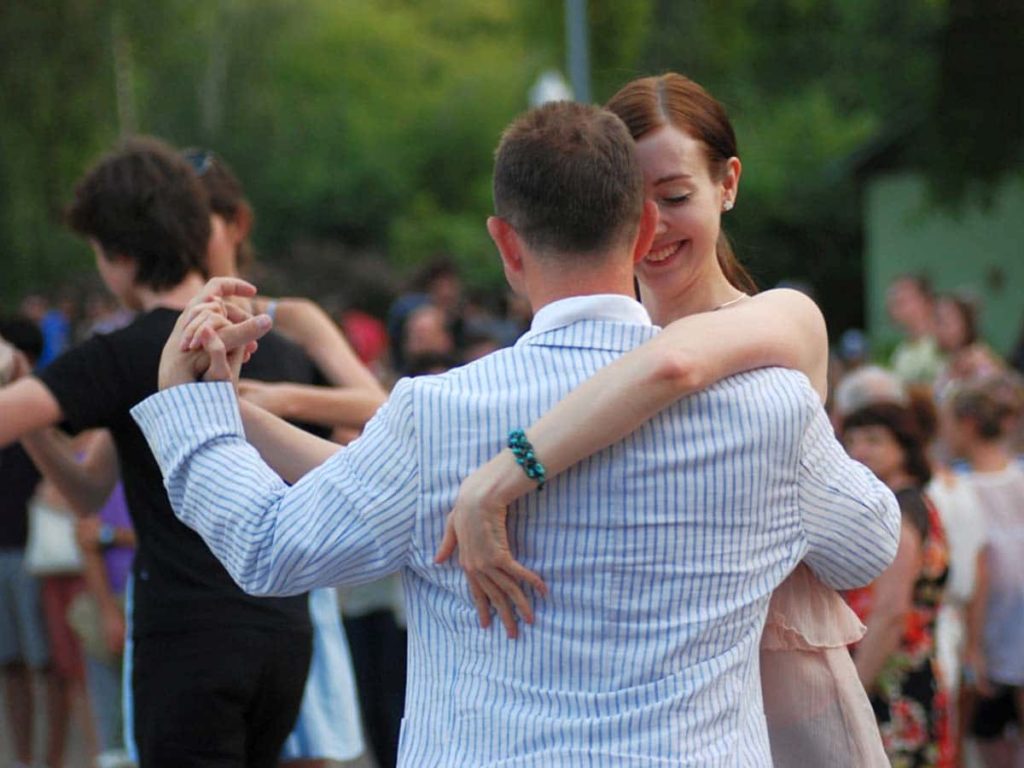 Dancing in harmony with each other
However, the motto always applies: dance considerately and avoid collisions with other couples! Traditionally in tango the man is the leader and the woman is the following - but today it is also common to simply speak of "leader" and "follower", as the roles can be reversed. Women lead and men follow, women dance with women and men with men.
The latter in particular even corresponds to old Argentine tradition, because the men wanted to learn among themselves first learn to dance tangobefore they presented their skills to the ladies. One wanted to immediately make a good impression due to the notorious shortage of women among the first generations of immigrants!
Popular milongas in Germany
Milongas are held regularly in (nearly) all major cities, so you can go tango dancing almost every day. A small selection of popular milongas in Germany is presented here. Otherwise, we recommend the superordinate Tango calendars or information pages of the cities, where you can find information about the local milongas.
Suerte Loca, Munich
Traditional Friday milonga, centrally located. A different DJ spins every Friday. Best dance floor, perfect sound, well-groomed Ronda. Facebook
Milonga on Fridays, Berlin
Every Friday at the Nou Tango. Large dance floor with lots of seating, changing DJs, 100% traditional. Central in Berlin Mitte. Website URL
La Yumba, Hamburg
Nice hall in St. Pauli. Comfortable atmosphere, parquet floor, traditionally with changing DJs. Every Friday and every other Sunday. Website URL
Tango 8, Cologne
Nicely designed hall with wooden floor. Outdoor dance floor in summer. High dance level. Milongas every Friday and every Sunday. Website URL
Milonga de los Domingos, Munich
In the great old hall of the "Wirtshaus at Schlachthof". Traditional music, good parquet, beautiful lighting, with a stage for live concerts. Every Sunday. Website URL
Der schöne Freitag, Berlin
Every Friday you can enjoy dancing on the parquet floor in a friendly atmosphere. Good level of dance, sometimes guest DJs, shows or live music. Facebook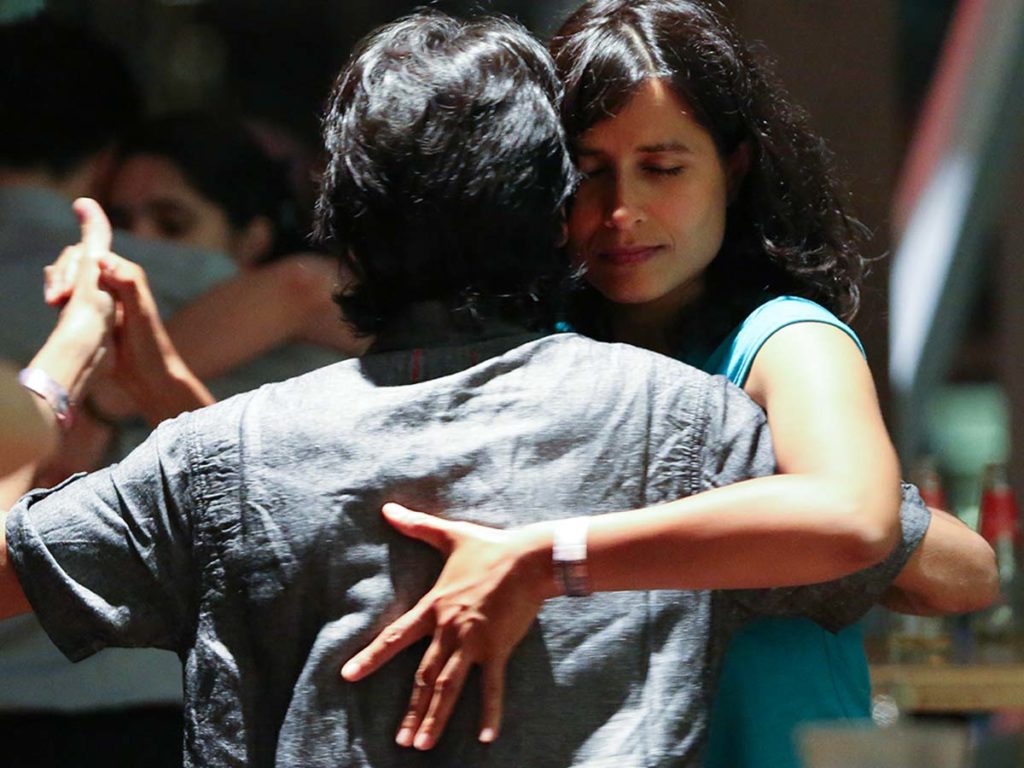 Little milonga etiquette
At a milonga you always dance with the other couples, not just with your own partner. Here are a few tips for a harmonious coexistence on the dance floor:
Keep the dance direction: always in a circle counter-clockwise.
No backward steps against the dance direction. The next couple doesn't expect it and there could be a clash.
Pay attention to the flow of dance: to avoid traffic jams do not stop for too long. Go forward when there is a bigger gap.
Keep to the tracks (do not dance zigzag): Two tracks on the outer edge of the circle, the center of the circle is reserved for beginners or show couples.
Avoid overtaking if possible. Adjust the pace of the other couples. If necessary, please only overtake on the left!
When the dance floor is full, please don't dance high Voleos or Hooks , otherwise there is a risk of injury to the other dancers!
The more crowded the milonga, the smaller the figures - don't dance expansively and stay in a close embrace if possible.
Milonga photographers
Since more and more photos of milonga visitors have been shown on social media, the organizers are also becoming more interested in having their events documented by professional photographers. Some photographers, often tango dancers themselves, have specialized in it - here is a small selection with information and contact details.
Chauveau Photography
Lives in Antwerp, is a passionate tango dancer and can often be found at international encuentros. Facebook
Thomas Lackner
Lives in Munich, has specialized in theater photography and likes tango dance as an inspiring photo motif. Website URL
Ishka Michocka
Comes from Poland, currently lives in Ibiza and dances tango herself. Professional photographer who has had many international exhibitions. Website URL
Ralph Sartorius
Artistic photography with a focus on tango. Has been working as a professional photographer since 2003, and since 2004 as the editor of three book series. Dances and teaches tango. Website URL

Tango Hotels Buenos Aires

***
Cover photo: Karin Lüders, further photos: Preillumination Seth (Unsplash), Andrey Free (pxhere), Chauveau Photography

***